Small Piece Folders Save Time, Money, and Labor in Your Commercial Laundry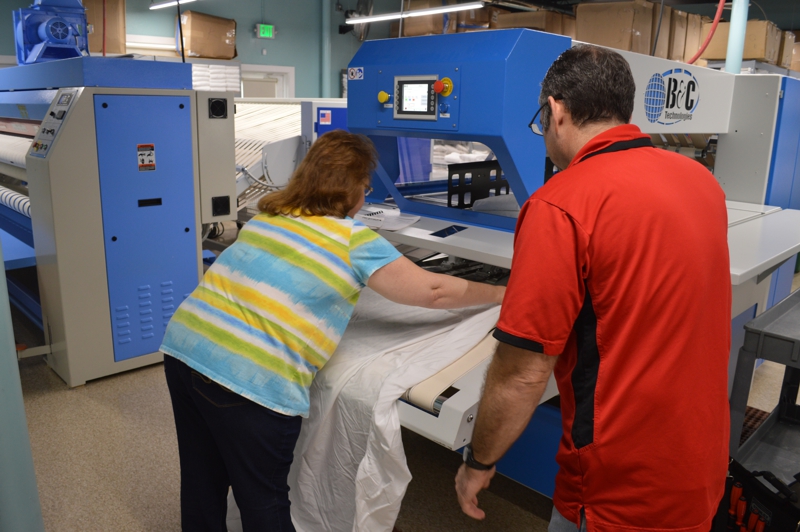 Small Piece Folders Save Time, Money, and Labor in Your Commercial Laundry
We all look for ways to save time and money. We try to work smarter not harder. One way to do this in your commercial laundry is by purchasing a small piece or towel folder. These versatile machines will quickly pay for themselves through labor savings and increased throughput by streamlining the process of folding.
Small piece folders are a great addition to a busy laundry.  Although they're commonly referred to as a towel folder they can fold many different things.  It's most commonly used to fold towels but most can also fold other small items like shirts, scrubs, small blankets, pillowcases, twin sheets and much more.  
Save Money
A small piece folder can save labor costs by reducing the number of people needed to fold laundry. At this time with so many businesses having difficulties finding personnel this is great solution. Depending on the folder purchased, you can expect to replace three or four employees folding by hand with only one person to operate the machine which will in turn…
Save Time
Not only do small piece folders need only one operator, they can process linens significantly faster than folding by hand which allows you to…
Increase production:
With some models able to fold 14 towels per minute, the folder is only limited by the speed of the operator. You can further increase throughput with folders that…
Eliminate sorting:
Some folders have the capability to do the sorting for you. With a model that offers a sorting feature you can fold different size towels, mats, garments, and whatever without presorting. The folder will fold, sort and stack them for you. Not only can they sort, they can also offer…
Versatile folds:
Many folders available can be programmed to fold several different ways. Have a logo on a towel that you want displayed? No problem. The folder can use its many different programs to fold those small piece goods in various configurations. Along with the versatility you can also expect…
Consistent results:
With machine folds, the goods you'll have more consistent results than if folding by hand. People tend to have their own way to fold but the folder will add consistency to your laundry.
With all of these benefits it's easy to see how a small piece folder will become one of the most productive machines you can add to any busy laundry.
Please follow and like us: