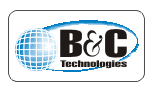 Career Opportunities
Other Positions
B&C Technologies may be hiring in the future, so feel free to submit your resume to us at any time. We will keep your resume on file. Our contact information is located at the bottom of each page, or feel free to use the contact page.
B&C Commercial and Industrial Laundry Parts
Need UniMac parts, IPSO parts, Speed Queen parts, Huebsch parts, Wascomat parts, Milnor parts, Dexter parts, or ADC parts? Try out the new parts search page! You'll find everything from Elmo motors and AUK Mueller water valves to Depend-O-Drain (Dependo Drain) drain valves and Goodyear belts and hoses, plus much more!
Order Online!
Have an account with us? Get our handy order form and fax in your order today, or order on line!
Experience you can trust
B&C Technologies engineers have years of experience and expertise in the commercial and industrial laundry industry. When you call us, you will speak to someone who can help you, you won't be caught in someone's voicemail system, and it won't take hours for someone to return your call.